Annals of Neurosciences, Vol 16, No 1 (2009)
Annals of Neurosciences, Volume 16, Issue 1 (January), 2009
Primary nocturnal headache - case report
---
Corresponding Author
B.K. Pankaj,
99313-24047 (M)
E-mail : bk_pankaj2003@yahoo.co.in
ABSTRACT
The hypnic headache syndrome or alarm clock headache is a rare entity. It can be diagnosed in a patient presenting with headache occurring during sleep. A rare case of hypnic headache well responsive to indomethacin is being presented here.
KEY WORDS: Trigeminal autonomic cephalagias. Headache, Hypnic.
doi : 10.5214/ans.0972.7531.2009.160112
---
Introduction
There has been exciting advances in Headache classification, diagnosis, patho-physiology and treatment. The developing field of headache includes the trigeminal autonomic cephalagias. These are rarer syndromes that are likely to be referred to the neurologists who will need to recognize and treat these. The case presented here highlights one of the rare primary nocturnal headaches which is rarely reported in India.
Case Report
A 61-year-old Hindu male presented with 3 month history of nocturnal headache and neck pain at about 3am, occurring daily. It was holocranial in distribution, lasting for about 30-45 minutes, awakening patient from sleep. It was moderate to severe in intensity, bursting in character and associated with dryness of mouth. Pain was not associated with cranial autonomic features, nausea/vomiting, photophobia, phonophobia, auras, weakness of limbs or any exploding noise sensation. There was no family history of such illness, no history of prior similar illness or any seasonal variation. The patient was not having features of raised ICP, sub- occipital or temporal pain, systemic disease or medication over use. His headache was not aggravated by dietary or psychological triggers, physical, environmental or sleep related triggers and was unrelated to head trauma, physical exertion or fatigue. It was relieved by taking one tablet of Dart. The patient was nondiabetic, nonhypertensive, nonsmoker, not addicted to tobacco, alcohol or any substance. There was no history of TIA, Cerebral stroke, anginal pain or M.I, stress, anxiety or depression. General examinations were within normal limits including peripheral pulse and blood pressure. Cardiovascular, respiratory and abdominal systems were within normal limits. On CNS examination, fundus and pupil were normal, and no focal signs were observed. Keeping the above features of new onset of nocturnal headache in mind relevant investigations were requested: ESR - 20mm/hr, C-reactive protein -normal, CT scan of brain - normal (fig 1). Polysomnographic studies were rather supplemented by sleep history which was consistent with-REM sleep disorder, EEG-normal (fig 2).
The important considerations in differential diagnosis were both primary and secondary headache disorders. Among primary headache disorders, migraine, tension, cluster, hypnic, paroxysmal hemicranias short lasting unilateral neuralgiform headache attacks with conjunctival injections and tearing (SUNCT) and exploding head syndromes were considered. Among secondary headache disorders, Intracranial space occupying lesion (SOL), subdural hematoma (SDH) and epidural hematoma, temporal arteries, cerebro vascular accident (CVA), systemic disease and cervicogenic headaches were considered.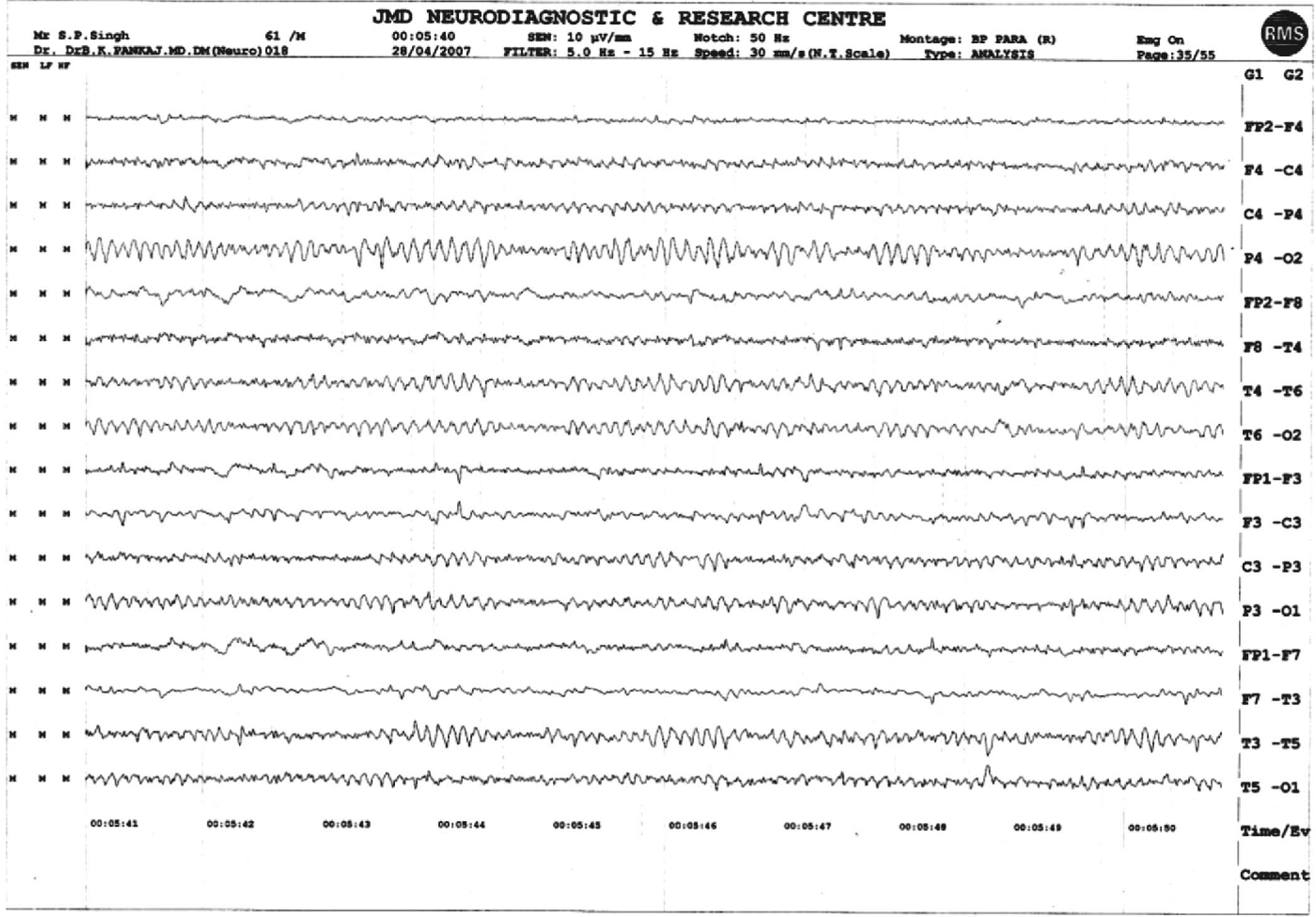 The present case resembles the hypnic headache which is rarely reported3. He was given Indomethacin SR 75mg once daily for 1 month. Headache was completely relieved and was symptom free for 2 months. Again he had similar symptoms in 3rd month which was responded well to Licarb-300mg, once daily.
Discussion
Primary nocturnal headaches are chronobiological disorders, usually associated with REM sleep1. Headaches can be thought to be either intrinsically related to sleep by anatomy and physiology e.g.-migraine, cluster headache, paroxysmal hemicranias and hypnic headache2–6 cause of sleep disturbance, such as CTTH or chronic migraine with or without analgesic overuse; or as a result of a disrupted nocturnal process of the underlying process that disrupts sleep. Sleep in the adult consists of four to six sequential cycles, each lasting approximately 90 minutes during which a relatively longer period of NREM sleep is followed by a relatively shorter period of REM sleep. NREM sleep is divided into four stages of increasing depth (stages l-IV). Slow wave sleep (Stage- III and IV) predominates early in the night, and REM sleep predominates towards morning. From adolescence, the percentage of slow wave sleep tends to decrease until it is absent in individuals over 60 years old.
REM sleep is thought to be initiated by cholinergic neurons in the laterodorsal tegmental nucleus and pedunculo-pontine nucleus7, and REM Off cells have been found in the noradrenergic locus coeruleus and serotonergic dorsal raphe nucleus (DRN). Cell recordings in the DRN have shown a slow and regular firing rate during wakefulness, a decreased firing rate during NREM sleep, and near cessation during REM sleep 8.
Hypnic headache (also known as 'alarm - clock headache') is a rare syndrome first described by Raskin 9 in 1988. Over 70 cases have been reported in the literature 3. Its prevalence has been estimated at 0.07% 10.
It is a benign syndrome characterized by a dull headache, occuring only during sleep, and wakes the patient at a consistent time, usually between 01.00 and 03.00 hours 10,11. It lasts approximately an hour, and occurs once per week to six per night 3, usually at least 4 times a week 10. The diagnostic criteria given by International Classification of Headache Disorders for hypnic headache are as following:
A. Dull headachefulfilling criteria B-D.
B. Develops only during sleep, and awakeness patient.
C. At least two of the following characteristics:
1. occurs > 15 times per month
2. lasts ≥l5 minutes after walking
3. first occurs after age of 50 years
D. No autonomic symptoms and no more than one of nausea, photophobia or phonophobia.
E. Not attributed to another disorder.
This case report highlights the importance of taking a detailed history in the case of headache supplemented with general examination and necessary investi-gations. It also emphasizes the need for recording accurate history specifically keeping in mind the salient points of the International Classification of Headache Disorders criteria for the correct diagnosis and treatment of headache patients.
Competing interests - None, Source of Funding - None
Received Date : 11 March 2009; Revised Date : 3 April 2009
Accepted Date : 25 April 2009
References
1 Pinessi L, Rainero I, Cicolin A, ef al. Hypnic headache syndrome; association of attacks with REM sleep. Cephalagia 2003; 23:150-4.
2 Verma A. Transformed migraine: a study of 420 consecutive patients from central india. Annals of Neurosciences 2007;14(2): 37-40.
3 Evers S, Goadsby PJ. Hypnic headache: clinical features, pathophysiology, and treatment. Neurology 2003; 60:905-9
4 Morales-Asin F, Mauri JA, Iniguez C, ef al. The hypnic headache syndrome: report of three new cases. Cephalagia 1998; 18: 157-158
5 Gould JD, Silberstein SD. Unilateral hypnic headache: a case study. Neurology 1997; 49:1749-51.
6 Rana PVS, Malhotra A, Shetti M. High altitude neurological syndromes part 1. Annals of Neurosciences 2005 ;12(3):53-59.
7 Steriade M, Datta S, Pare D, ef al. Neuronal activities in brain-stem cholinergic nuclei related to tonic activation processes in thalamocortical systems. J Neurosci 1990; 10:2541-59.
8 Lydic R, McCarley RW, Hobson JA. The time- course of dorsal raphe discharge, PGO waves, and muscles tone averaged across multiple sleep cycles. Brain Res 1983; 274:365-70.
9 Raskin NH. The hypnic headache syndrome. Headache 1988; 28: 534 -6.
10 Dodick DW; Mosek AC, Campbell JK. The hypnic ('alarm clock') headache syndrome. Cephalalgia 1998; 18:152 -6.
11 Headache Classification Committee of the International Headache Society. Classification and diagnostic criteria for headache disorders. Cranial neuralgias and facial pain, 2nd ed. Cephalagia 2004;24:1-160.
(c) Annals of Neurosciences.All Rights Reserved