Annals of Neurosciences, Vol 17, No 1 (2010)
Annals of Neurosciences, Volume 17, Number 1, January 2010
Managing sudden quadriparesis at term pregnancy
Corresponding Author

Rakesh Biswas, MD
Professor, Department of Medicine, Center for
Scientific research and Development, PCMS & RC campus, Bhanpur, Bhopal-462037, India
Tel.:+91 -755-4005210
Fax:+91-755-4005112
E-mail: rakesh7biswas@gmail.com
ABSTRACT
This case report describes a patient of sudden onset quadriperesis at term pregnancy and discusses the challenges of managing not only the neurological issues but also pregnancy complications, fetal distress, operative delivery and the attendant risk of autonomic hyperreflexia.
KEYWORDS: Spinal Subdural Hematoma, Quadriparesis, Pregnancy, Pre-Eclampsia
doi : 10.5214/ans.0972.7531.2010.170111
Introduction
Pre-eclampsia remains a dreaded but a common condition in pregnancy. The complications of pre-eclampsia can be far and wide and many times, unpredictable. We present the case of a primigravida at term pregnancy with sudden onset quadriparesis. Acute spinal cord compression is a potentially life threatening condition and irrespective of the cause, it carries the risk of autonomic hyperreflexia that may be difficult to control. The fetus is at significant risk too and fetal considerations significantly alter clinical decision making. The following case demonstrates the need for a good teamwork in managing such patients
Case Report
A 25 year old primigravida with full term pregnancy (with no previous health problems) had a sudden onset neck pain and within a few hours she developed numbness and paralysis of bilateral upper and lower limbs as well as bladder and bowel incontinence.
During her pregnancy, she had regular antenatal check up elsewhere and was diagnosed to have Pregnancy Induced Hypertension (PIH) four days prior to this episode. On admission, the patient was in labour, her blood pressure was 210/140mm Hg and urine examination revealed albuminuria of 3+ that subsided soon after the delivery although her hypertension had to be controlled with aggressive pharmacological interventions.
On examination she had normal sensorium, no cranial nerve involvement but motor power was grade zero in both the lower limbs and grade 3 in the right upper limb and grade 4 in the left upper limb with objective loss of pain, touch and joint position sensation from the level of C5 below. The motor as well as sensory involvement was asymmetric with left side better than the right. She also had urinary retention. Her deep tendon reflexes were: exaggerated biceps bilateral (right more than left) and absent triceps and brachioradialis with sluggish lower limb reflexes and a mute planter response. Other significant findings were flat umbilicus, poor coughing, tachypnea, hypotonia in both lower limbs and right wrist and fingers. There was no sign of meningeal irritation and the special senses were within normal limits. She underwent an emergency caesarian section for fetal distress under monitored anesthesia care without an anesthetic as there was no sensation below the epigastrium.
An initial MRI cervical spine revealed cervical cord edema at C5 to C7 ( Fig.1). A repeat MRI done after 15 days showed striking changes in the same area (Fig. 2A, 2B, 2C and 2D).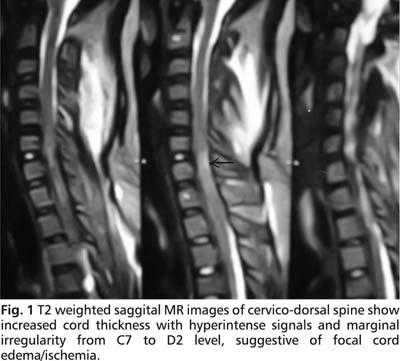 The cervical MR findings are suggestive of subacute spinal subdural hemorrhage appearing hyperintense on both T1 and T2 images. Serpigenous flow voids were seen on axial sections suggestive of Arterio-Venous malformation (AVM). Unfortunately, a subsequent angiographic study could not be done.
Following the caesarian operation, the patient was managed conservatively for SSDH with proper spinal care including back care, bladder and bowel care and rehabilitative care. There was an improvement in the sensations on the left side in the postoperative period and subsequent gradual partial motor recovery. At 1 month, the patient was sitting up and had recovered partial control of bladder and bowel.
Discussion
Acute non traumatic Spinal Subdural Hematoma (SSDH) is a rare and a potentially life threatening condition. Very often, it is associated with an underlying predisposing condition or cause and the commonest site is the Thoracolumbar or Lumbar segments. In a meta-analysis of 106 cases with non-traumatic SSDH, there were only 12 cases with Cervical and Cervico thoracic subacute subdural hemorrhage and in a majority of cases, an underlying cause or predisposing condition could be identified.1 The spinal problem in our patient was compounded by the term pregnancy which again is, as previously described, a challenge that requires a multidisciplinary input and care.2,3 Similar case situations with spontaneous epidural hematomas and associated pre-eclampsia has been reported in the past.4 The problem got further complicated as the patient was in labour at admission and also needed an emergency caesarian delivery for fetal distress. Such a situation practically left no time for working up the patient for the cause of acute onset paraplegia.
Our case poses three pertinent questions: 1) What came first: the spinal cord injury (AVM bleed - SSDH) followed by mass reflex presenting as an exacerbation of PIH and a very high blood pressure OR severe PIH - pre-eclampsia resulting in bleed from an arterio-venous malformation (AVM) in the spinal cord and subsequent neurodeficits. 2) What is the best form of anesthesia for such patients i.e. those with acute onset paraplegia and requiring an emergency surgery. What else could we have done if we had a little more time and had the option of a planned caesarian delivery? 3) What is the best treatment option for SSDH presenting in this manner-emergency surgical decompression, percutaneous drainage or conservative management?
Addressing the first question - it is likely that the patient had severe pre-eclampsia (supported by presence of significant albuminuria) that caused a spinal cord AVM to bleed and subsequent SSDH. However, the difficulty faced in controlling the BP may have been due to mass reflex presenting as severe hypertension resistant to usual therapy. So, in the present case, there are underlying conditions that could have independently led to a SSDH namely pregnancy per se with vasodilatation more marked near term, presence of severe pre-ecplampsia and presence of a n AVM.
The second issue regarding anesthesia is a more complex one and has a medical as well as ethical aspect to it. While we managed with minimal anesthesia support but with very intensive monitoring, a quick review of available literature suggests that such patients are well managed with epidural block or a combination of general anesthesia and epidural block. The main advantage of epidural anesthesia lies in preventing and controlling the mass reflex that may be triggered in the peri and postoperative period.5,6 Simultaneously, there is also the issue of keeping a high enough blood pressure so as to maintain the spinal perfusion. In the above case, if the events were not so recent and time permitting, an epidural block may have helped prevent or control the persistent raised BP in the postoperative period. The ethical aspect of operating without anesthesia (with Monitored Anesthesia Care of course) or using only local agent is a matter of constant debate.
The third question of the best management plan of a subacute SSDH is dictated by individual situation. In our patient the presence of obstetric complication and only subtle signs on the initial MRI helped us decide in favour of conservative and supportive management. Some earlier cases in literature have also reported a good recovery with only conservative management7,8 while others have reported surgical evacuation of the hematoma.4
To conclude, a patient with sudden onset quadriparesis at term pregnancy and in labour is a very trying clinical situation but can be effectively managed with a good multidisciplinary teamwork and by constantly tailoring and adapting management protocols as per need. The role of a good spinal and rehabilitative care in recovery of these patients cannot be overemphasized.
Conclusion
Unusual and life threatening complications such as SSDH at term pregnancy with PIH are clinical challenges that are best handled with a well coordinated multidisciplinary approach. The ethical issue of the best form of anaesthesia to quadriplegic patients needs to by addressed.
Competing interests : None, Source of Funding - None
Received Date : 24 September 2009; Revised Date : 21 October 2009
Accepted Date : 9 November 2009
References
1. Domenicucci M, Ramieri A, Ciappetta P, et al. Nontraumatic acute spinal subdural hematoma: report of five cases and review of the literature. J Neurosurg. 1999;91:6573.
2. Cain JH, Baggott C, Tilghman Jl. Recent developments in the study of spinal cord injury and neuropathic pain. Annals of Neurosciences 2007;14(4):96-107.
3. Owen MD, Stiles MM, Opper SE, et al. Autonomic hyperreflexia in a pregnant paraplegic patient. Reg Anaesth. 1994;19(6);415-7.
4. Doblar DD, Schumacher SD. Spontaneous acute thoracic epidural hematoma causing paraplegia in a patient with severe preeclampsia in early labor. Int J Obstet Anesth. 2005;14(3):256-60.
5. MK Sinha, HS Malhotra, V Agarwal. Brown-séquard's syndrome produced by hemicord myelitis- a case report. Annals of Neuroscience. 2008;15(1):25-26.
6. Mazumdar AS. The mass reflex: an emergency in quadriplegic patients. Can Med Assoc J. 1982;126(4):369-70,376.
7. Oh S, Han I, Koo Y, Kim O. Acute spinal subdural hematoma presenting with spontaneously resolving hemiplegia. J Korean Neurosurg Soc. 2009;45:390-3.
8. Behcet A, Cuma Y, Suat Z, et al. Acute spontaneous spinal subdural hematoma presenting as paraplegia and complete recovery with non-operative treatment. BMJ case reports 2009.
(c) Annals of Neurosciences.All Rights Reserved